© 2016 eatright.org. Academy of Nutrition and Dietetics, All Rights Reserved.
March is National Nutrition Month®, which focuses on nutrition education and information. This year, the Academy of Nutrition and Dietetics is focusing their attention on "the importance of making informed food choices and developing sound eating and physical activity habits." There are several key factors to consider when it comes to eating right—the process goes far beyond your daily dose of fruits and veggies! In addition to how, when, why and where you eat, it is also important to consider sight, sounds, memories and interactions with eating, according to eatright.org.
To help kick-off this month's meal planning, let's chat and chew about tips for eating right while still savoring every healthy bite!
When it comes to eating right, the Dietary Guidelines for Americans recommend the following tips to help you start modifying your meals.
Concentrate on fruit, vegetables, whole grains and low-fat or fat-free milk and milk products.

Incorporate lean meats, poultry, fish, beans, eggs and nuts.

Enjoy a diet that is low in saturated fats, trans fats, salt (sodium) and added sugars.
The infographic* below on the Total Diet Approach to Healthy Eating gives an overview of different factors that influence our eating habits.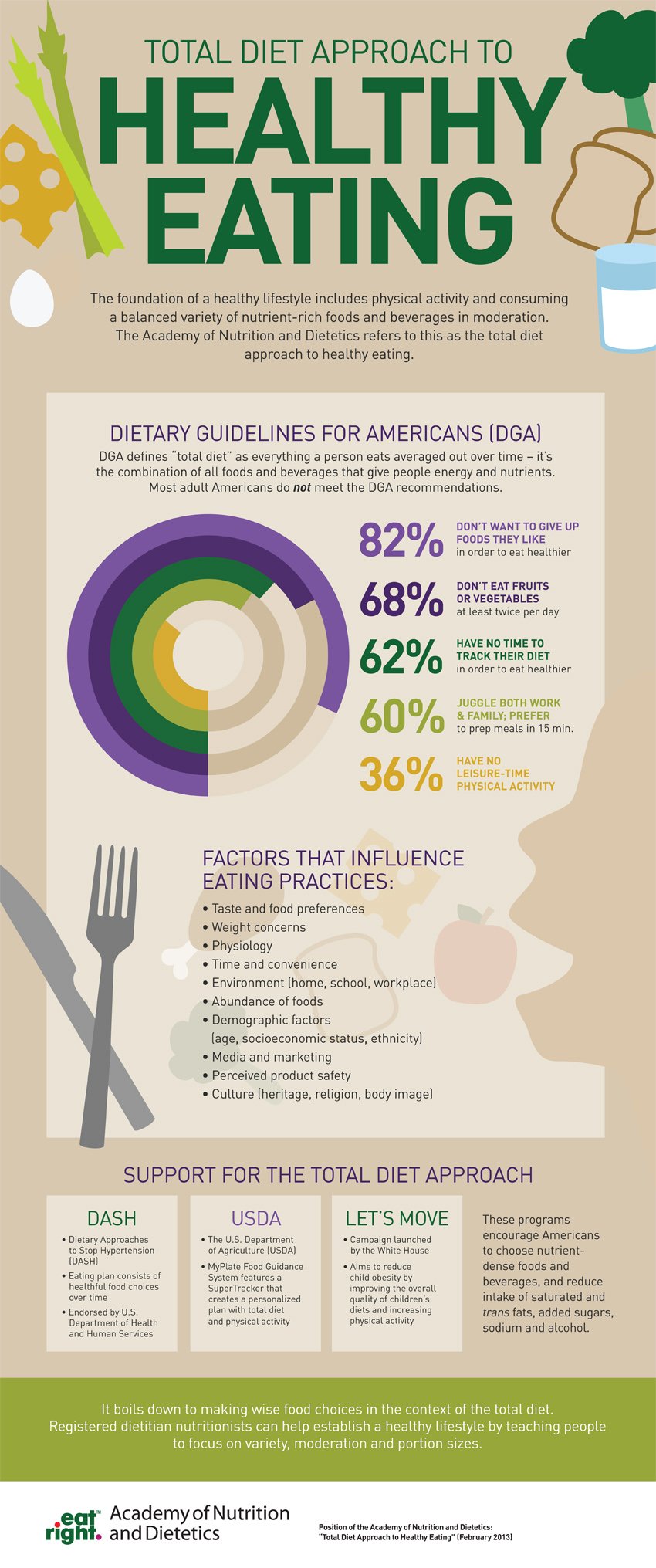 *The infographic is from the Academy of Nutrition and Dietetics. Visit eatright.org for more information on healthful eating or to find a registered dietitian nutritionist. [Note: hyperlink must be included.
Challenge yourself during this year's National Nutrition Month® to improve your eating habits. Try incorporating changes such as deciding what you are going to eat in advance, plan meals and leftovers for the week and snack on portion-friendly healthy treats. If those don't work, try one of these 16 Health Tips for 2016 instead. It's important to consume nutrient-rich foods, but to also have fun with your food choices! During your next grocery trip, don't shy away from choosing fruits, vegetables or proteins that are unfamiliar to your family's palette.