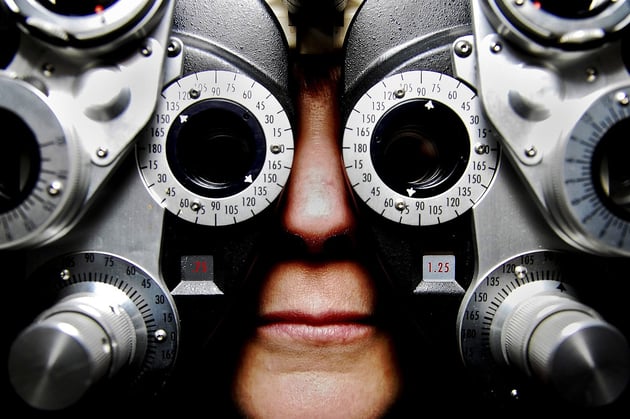 ---
May is Healthy Vision Month, and when it comes to your vision, it's important that you keep an eye out for sudden changes. By chance, are you aware of any eye conditions that run in your family? If not, try and set aside some time this month to investigate the fate of your eyes—it could help you better understand your risk of eye disease or help prevent vision loss.
Rather than turn a blind eye to possible vision problems, let's chat and chew about how to keep your eyes healthy and why it's important to get your vision checked.
Understand the whole picture. One of the easiest ways to envision the future is to ask family members about their eye health history. It's important to know if anyone has been diagnosed with a disease or condition since many are hereditary.
Go green. As with most things, maintaing a healthy diet that is rich in fruits and vegetables—particularly dark leafy greens such as spinach or kale—is important for your eye health.
Get a second opinion (or first). When it comes to common vision problems, some people don't realize they could see better with glasses or contact lenses. Not to mention, people spend virtually every other minute glued to some form of technology—and the horrible effect our screens are having on our eyes is no secret. Visiting your eye care professional for a comprehensive eye exam is the only way you can know if your eyes are healthy or not. In addition, many common eye diseases such as glaucoma, diabetic eye disease and age-related macular degeneration often have no warning signs. A dilated eye exam is the only way to detect these diseases in their early stages.
Check out the National Eye Institute's (NEI) video below for a full look at ways you can protect your sight by getting an eye exam, living a healthy lifestyle, understanding family history, wearing sunglasses, and using protective eyewear.
[youtube https://www.youtube.com/watch?v=videoseries?list=PLNol8zIT_P1D3y-EFnWo_25u3SPxmLEVP]
The National Eye Institute put together visuals worth taking a peak at, which further explain more friendly tips on how to keep your eyes healthy. Check out one infographic on why eyes are important, or a second option on eye health and protecting your vision.
Don't make the mistake of thinking your vision is fine only to wake up a few years later squinting as you look at the road ahead. As a friendly reminder, all Compass Rose Health Plan members have access to a FREE Dental and Vision Discount Program through our partnership with Careington. Members can access discounts on vision needs, such as eye exams, eye glasses, Lasik and more! Visit www.compassrosebenefits.com/Careington for more information.