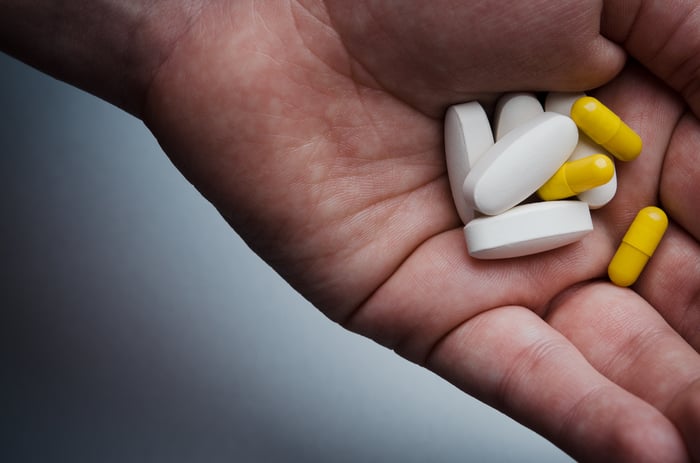 Misuse of prescription opioids and other prescription medications is a serious public health problem in the United States. Although most people take prescription medications responsibly, in 2019 an estimated 10.1 million people aged 12 and older misused opioids at least once in the past year.1 And, most people who misuse prescription drugs get them from family, friends and acquaintances.
Your first thought may be to throw away or flush any unused or expired medication, but many medications have specific directions for disposal. Be sure to read your prescription information that comes with any medication from the pharmacy or ask your pharmacist for specific directions if you are not sure how to dispose of your medicine.
National Prescription Drug Take Back Day is a safe, convenient and responsible way to dispose of unused or expired prescription drugs. On this day, thousands of participating locations across the country offer an anonymous way to safely dispose of your prescription drugs. Help reduce prescription drug misuse by participating on April 24, 2021.
Find a Take-Back Location
To find a collection site near you, visit the United States Drug Enforcement Administration's (DEA) website and use their Collection Site Locator or call their Office of Diversion Control's Registration Call Center at (800) 882-9539.
Many pharmacies like CVS, Walgreens and Rite Aid also have locations with on-site medicine drop-off boxes. You can find your nearest drug disposal site on your smartphone by going to Google Maps and typing in "drug disposal near me" or "medication disposal near me."
For those in D.C. or Maryland, Johns Hopkins will have five contactless drive-up locations, which they have listed on their website.
If you are unable to attend National Prescription Drug Take Back Day, please use this link to find a permanent disposal site that accepts drugs year round: https://apps2.deadiversion.usdoj.gov/pubdispsearch/spring/main?execution=e2s1.
Before disposing of prescription medicines, be sure to remove all personal information on pill bottle labels and medicine packaging.
Which items are accepted at Take Back Day events?
Collection sites accept prescription and over-the-counter (OTC) drugs and vitamins, including opioids such as tramadol, morphine, hydrocodone or oxycodone. In addition, they usually accept pet medicines and even vaping pens and cartridges.
There are certain items that may not be accepted such as:
Syringes, needles or other sharps
Inhalers, such as those for asthma
Aerosol cans
Mercury thermometers
Iodine-containing medications
Illegal drugs or substances
Additional Drug Safety Tips
Another way to help make a difference is to know how to properly use and store your prescription medications.
Read the instructions on the prescription drug's label, which provides important information like proper dosage.
Access your Express Scripts profile through your Compass Rose Member Portal account to learn how your prescriptions interact with other drugs and foods. Contact an Express Scripts Pharmacist at

(877) 438-4449

for any medication questions.
Don't share any prescription drugs.
Keep track of the medications you have. That is, count your pills so you always know how much you should have on hand so you know when to take action if any go missing.
Store your prescriptions in their containers with child-resistant caps.
Secure medications in a locked cabinet, out of children's reach.
Many of us have expired, unused or unwanted prescription drugs at home. Proper disposal is the best way to ensure our prescription medications are not accessed or used in a way that is unsafe or illegal. Consider participating in National Prescription Drug Take Back Day by safely disposing of your unused medications on April 24, 2021.
Sources
1 Center for Behavioral Health Statistics and Quality. Results from the 2019 National Survey on Drug Use and Health: Annual National Report. Rockville (MD): SAMHSA; 2020. https://www.samhsa.gov/data/report/2019-nsduh-annual-national-report. Accessed March 29, 2021.